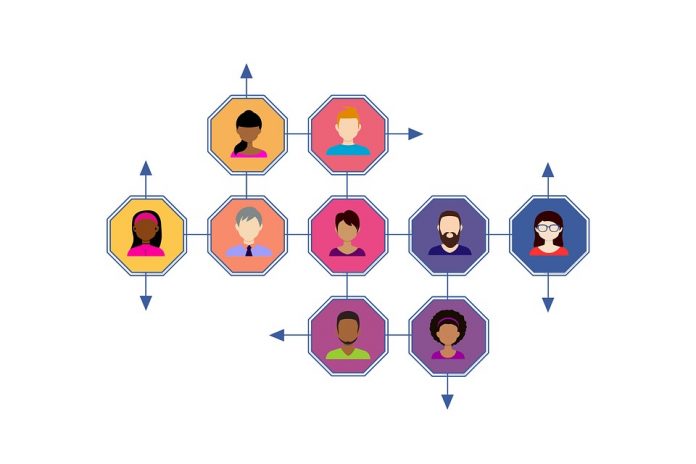 The search marketing industry is constantly evolving, which is why there are a number of conferences held in Australia each year. At these collaborative events, digital marketing experts are able to share ideas and create long-lasting business relationships.
Below are some of the main events worth attending in 2018.
January
When: January 17, 2018
Where: Academy Xi, 45 Exhibition Street, Melbourne, Vic 3000
Price: Free, register here!
Suitable for social media coordinators, marketing managers, business owners, account managers, or anyone working on a branded social platform will benefit from this course. Covering growth marketing strategies for Instagram, LinkedIn, and Facebook, an overview of the psychology behind social media, tips for starting viral trends, and how to draw more traffic to your site via social media, plus much more!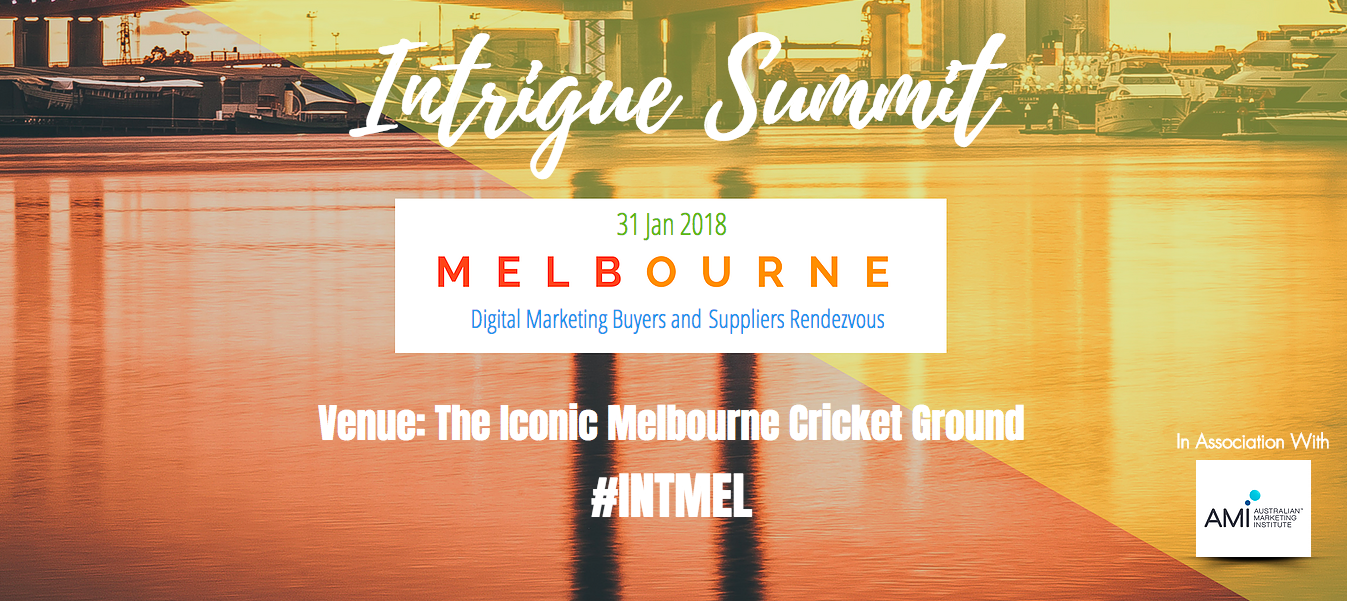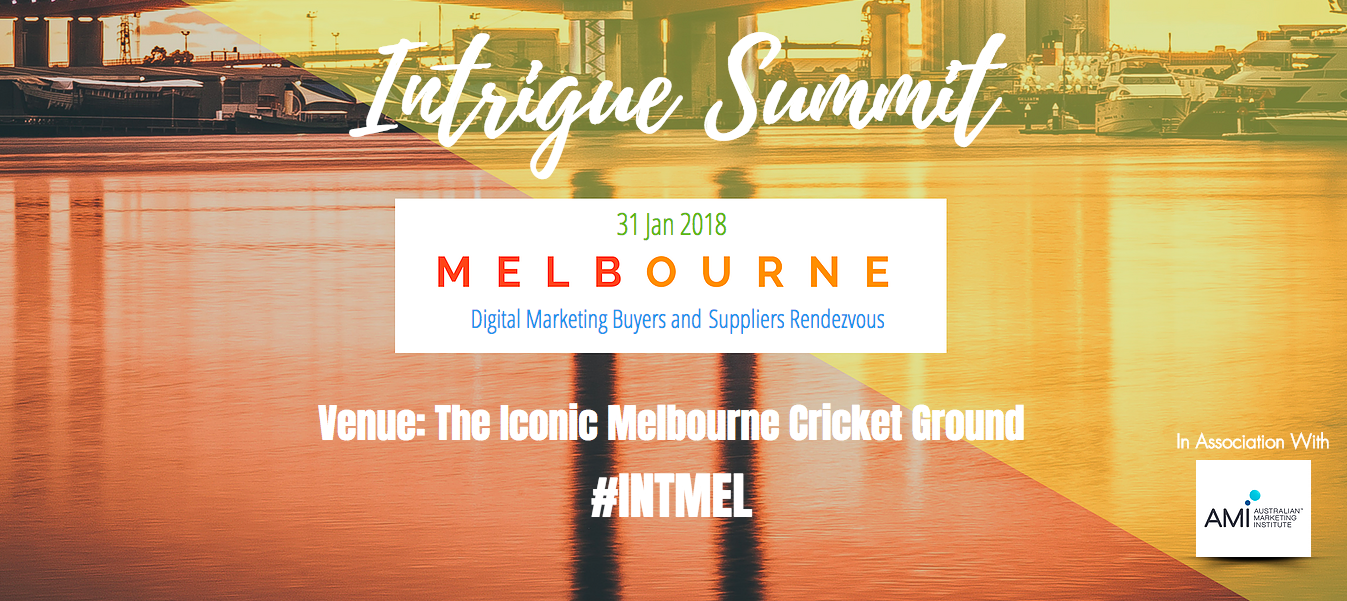 When: January 31, 2018
Where: The Melbourne Cricket Ground (MCG)
Price: All Access Passes are $599 (increasing to $699 after January 10), while a VIP Pass costs $799 (increasing to $899 after January 10), and can be purchased here.
The Intrigue Summit offers digital marketers a chance to network with like-minded professionals and hear keynotes from the industry's leading thought provokers. Covering everything from content generation, new technologies, the future of search engine algorithms and much more, this is a not-to-be-missed event.
March
When: March 22-23, 2018
Where: The Hilton, Sydney
Price: Starts at $399 to $1,299. You can register here.
ad:tech is the original industry authority for marketing and media technology, where marketing, technology and media communities assemble to share new ways of thinking, build strong partnerships, and define new strategies to compete in an ever-changing marketplace.
April
When: April 18-20, 2018
Where: The Science Exchange, 55 Exchange Place, Adelaide, SA 5000
Price: Ticket prices range between $449 for a Big Pass and $549 for a Super Pass, plus a $4 booking fee. Purchase your tickets here.
With speakers from Microsoft and Yext, plus a number of the world's leading digital marketing professionals, Big Digital will cover everything from AI to audience targeting.
May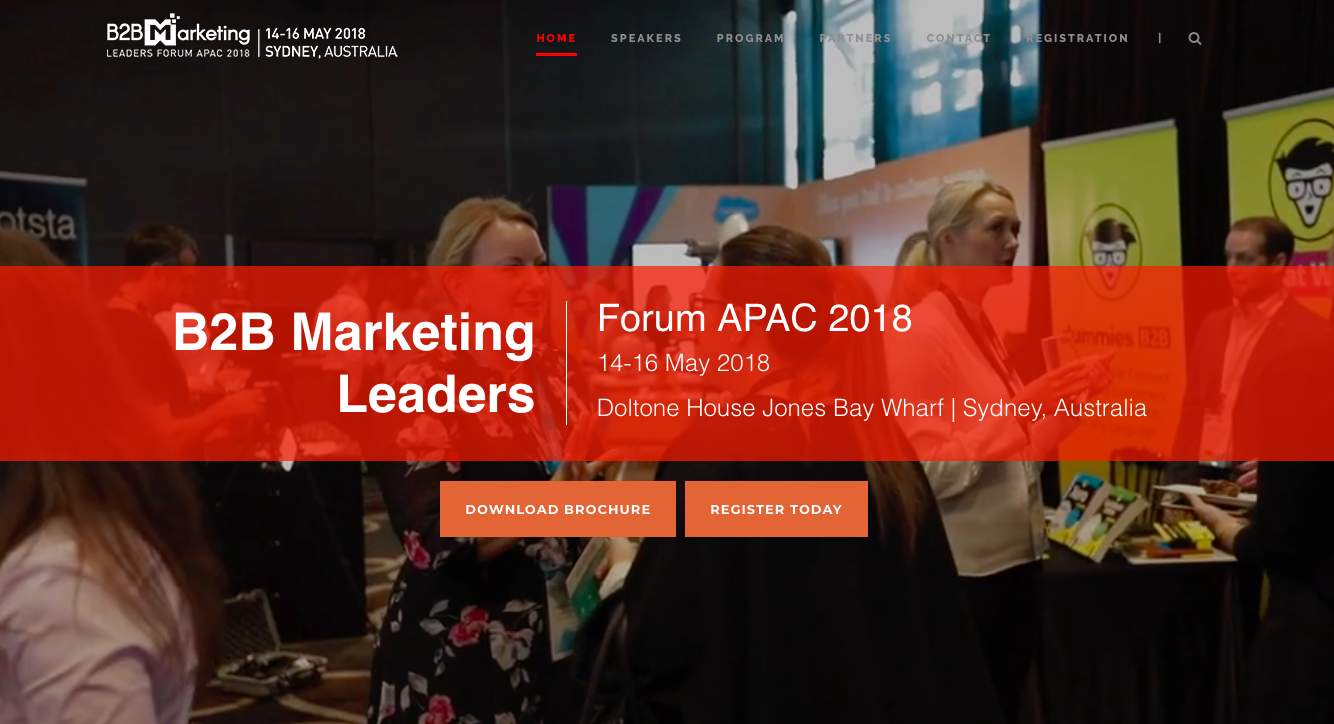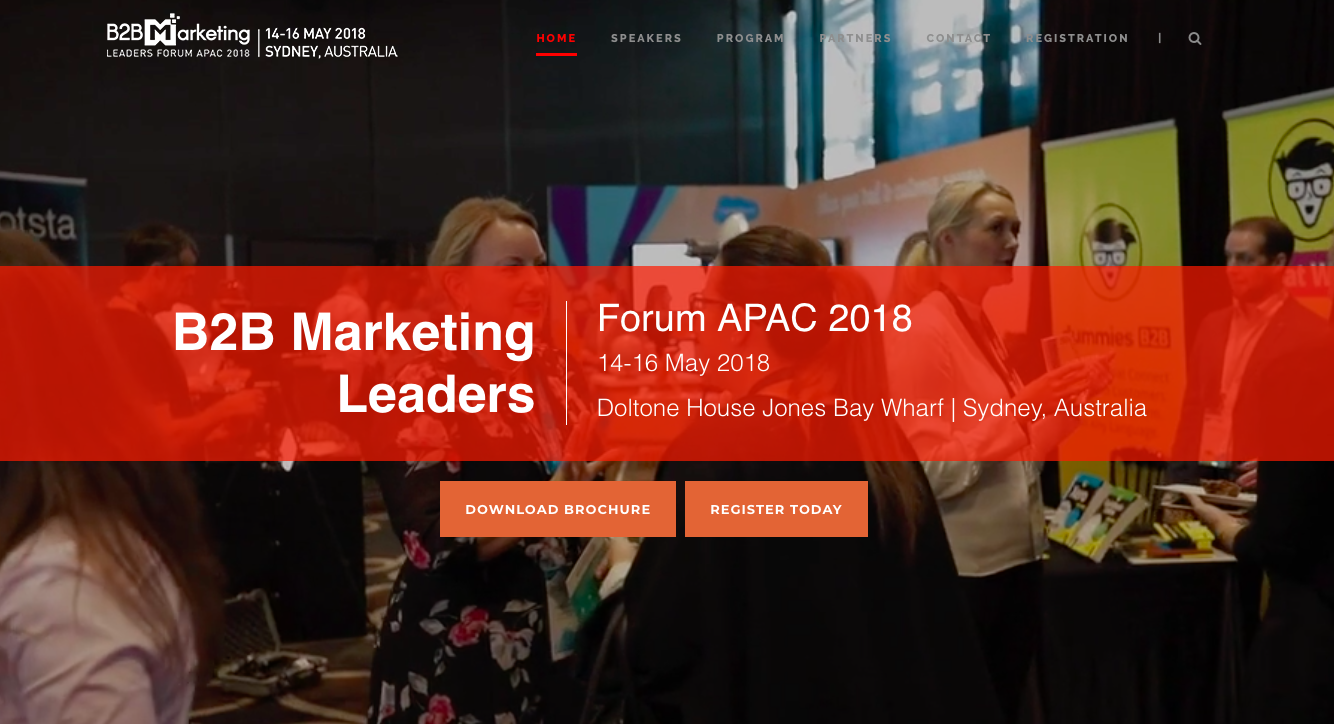 When: May 14-16
Where: Doltone House, Jones Bay Wharf, Sydney
Price: Prices start at $1,195
Targeted primarily at marketing departments, this forum focuses on increasing revenue building capabilities, as well sharing ideas, insights and actionable tips to help strengthen marketing efforts both in the traditional and digital marketing arena.
When: May 28-31, 2018
Where: TBA
Price: Prices start at $1,300
The Search Marketing Summit Australia is yet to release much information about the 2018 conference and workshops. But, if last year is anything to go by, there are bound to be some big names from Google and other major corporations discussing the future of the industry, and what search marketers need to be doing to dominate the rankings in 2018 and beyond.
October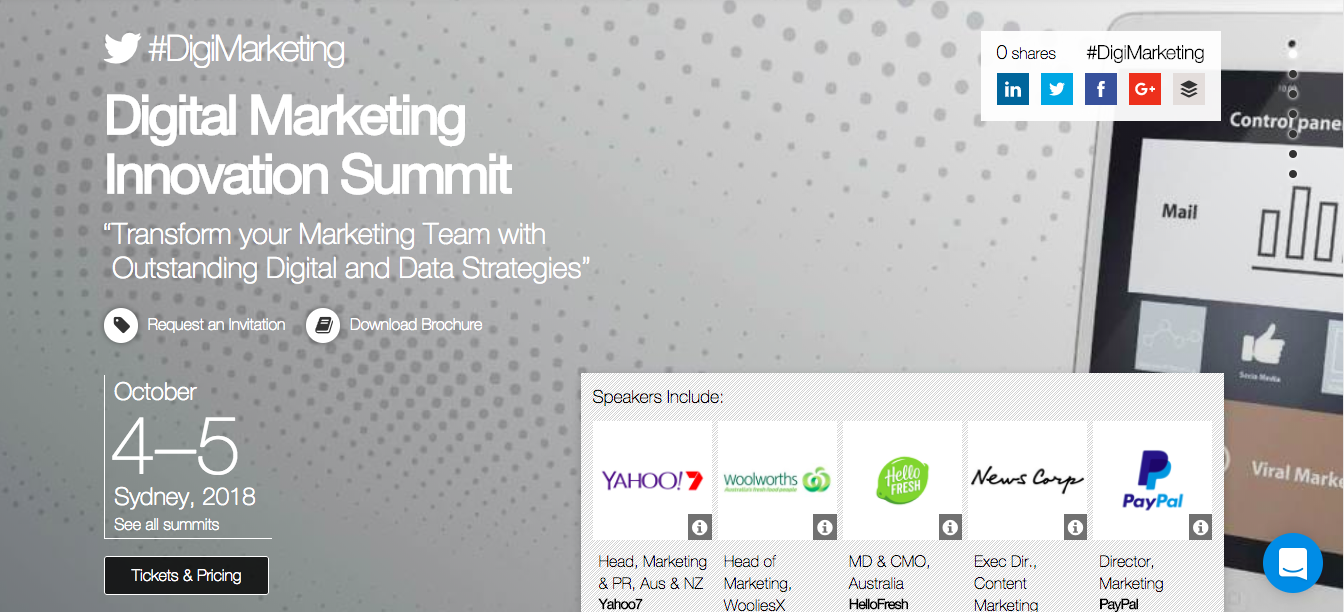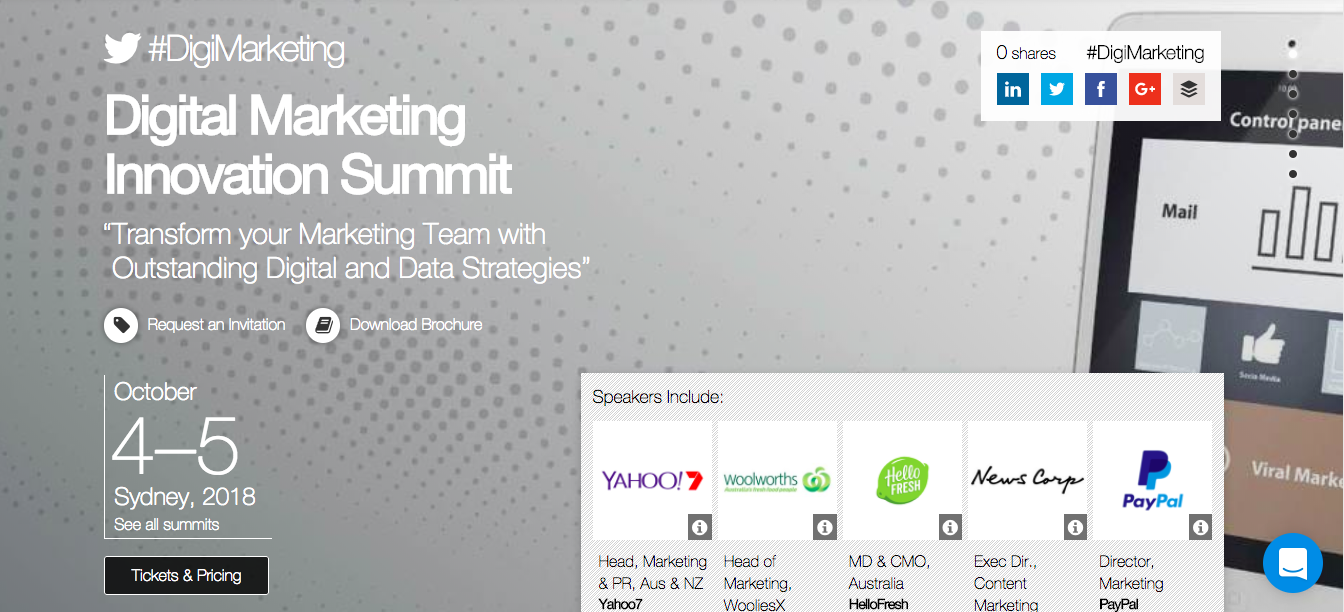 When: October 4-5
Where: TBA
Price: Prices start at $600
With more than 25 industry speakers and 100 plus delegates, the Digital Marketing Innovation Summit is held annually in Sydney and brings together Australia's leading marketing strategists. For two days, attendees can enjoy candid industry discussions, strategy sharing and networking.
Are there any other major conferences you know of? Let us know in the comments!